Westborough Garden Club Offers Two $1000 Scholarships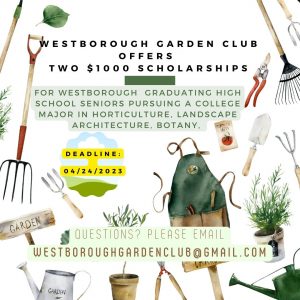 Please see if you or anyone you know is interested to apply:
The Westborough Garden Club will award Two $1000 Scholarships to a graduating high school senior.
->Applicants must be Westborough residents interested in pursuing a college major in horticulture, landscape architecture, botany, environmental science or a related field at a two or four year college.
->To apply for this scholarship, applicants should write a brief letter to the Garden Club describing why he or she should be awarded a scholarship.
->Applicants should include evidence of past and continuing
accomplishments and interests such as club memberships, community service, participation in special projects and activities, and their career goals, the area of study they wish to pursue and why.
->This information can be mailed to the Westborough Garden Club, Scholarship Committee P.O. Box 74, Westborough, Mass. 01581, or emailed to westboroughgardenclub@gmail.com
->All documents should include the applicant's name, address, email address, telephone number and high school.
->The deadline for all applications to be received by April 24, 2023
Thank You!