Garden Club Program Booklet: 2023 Garden Club Booklet
Open To Public Events: New Garden Club Programs 2023-2024 PUBLIC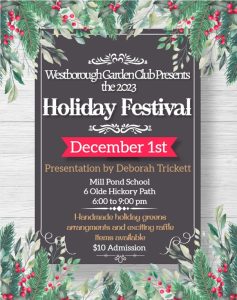 Garden Club Program Booklet: 2023 Garden Club Booklet
Open To Public Events: New Garden Club Programs 2023-2024 PUBLIC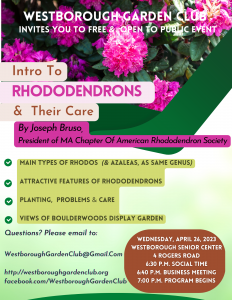 Intro To Rhododendrons & Their Care
By Joseph Bruso, President of MA Chapter of American Rhododendron Society
Free & Open To Public
@ Westborough Senior Center 4 Rogers Rd, Westborough, MA 01581
Wednesday, April 26th 2023 6:30 p.m. Social, 6:40 Business Meeting, 7:00 p.m. Program Starts
Please see if you can come and/or share any of our events to any that might be interested.
Thank You!
YES ! The Annual Garden Club Plant Sale will be held!
Saturday, May 20, 2023 9:00 a.m. to 11:30 a.m.
@ Hastings Elementary School, 111 East Main Street, Westborough, MA 01581
9:00 am – 11:30 am ~ Rain or Shine
All Are Invited!
Our Westborough community awaits this annual event and the opportunity to purchase our locally-grown perennial plants. It gives us the opportunity to meet with the members of our community, and sharing our plants and stories. It is a day of laughter, enthusiasm, and optimism. Garden Club members are expected to contribute a minimum of 20 plants. All members are urged to mark this date on your calendars and help out all morning long. We need everyone's participation to make this a successful fundraiser! Mark your calendars ~ and don't forget your hats and aprons!